How often do you send freight to the wrong location? How much money are you losing due to inaccurate weights? How do you measure a dock workers' efficiency? How many OS&D claims do you make, and how many are successful? How much paper work does an average dock worker process in a day?
When you run a terminal, these are some of the questions and concerns that may come to mind when evaluating efficiency. There are no easy answers without having hard data to back up your perceptions. Having an electronic paper trail of what happens on your dock floor helps to provide that data and answer those questions. For many trucking companies, this may be the last part of the operation that makes a transition to any form of electronic record keeping. The expectations placed on a dock worker may focus primarily on speed rather than efficiency, so the idea of introducing new process is a precarious one at best. This is where the design and efficiency of the ConnectedDock app comes into play.
Normally when we write our truck software we focus primarily on functionality rather than the user experience. Knowing the difficulties of introducing software to a dock workers' daily process, we focused on design and ease of use first. In fact, we spent more than three months on the design of the ConnectedDock app before a single line of code was written. That up-front effort shows its value through user acceptance.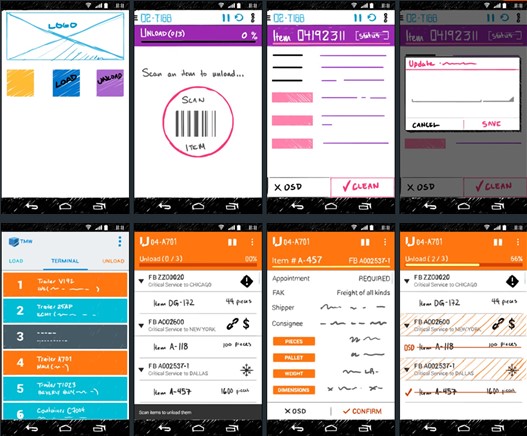 Early ConnectedDock designs, circa 2014
Once integrated into your dock workers' process, many potential benefits present themselves:
The enforcement of a standardized repetitive process where there may not be one.
A reduction or elimination of paperwork.
Capturing additional revenue through re-weighs and re-dims.
Alternatively, the avoidance of unnecessary re-weighs and re-dims due to client contractual obligations, saving time in the process.
Immediate notification of overloaded trailers.
Having accurate OS&D records, including pictures, at the time when they're first discovered.
Recommended, accurate re-direction through your freight network, and the avoidance of directing freight to the wrong terminal.
Insight into your dock workers and terminals, with a clear view into where and when errors are happening most frequently.
The best way to avoid painful mistakes, is to prevent them in the first place. Every piece of misdirected freight exposes a shipment to additional handling, OS&D claims, more time, and less money. The ConnectedDock app has features that prevent mistakes in the present, saving you time and money in the future.
Click here to learn more about overcoming your pain points with a complimentary, just released white paper, "Is There a Blind Spot in Your LTL Operations."
(Justin Caron is Development Manager, TruckMate.)