Mobile technology has changed the world.
Saying so may be a bit like beating a dead horse, but that doesn't make it any less true that the advent of smartphones and tablets has upended the way humans communicate, engage in commerce, work, consume media and approach any number of other day-to-day activities. Providing access to an ever-expanding range of apps – of which there are millions designed for anything from messaging to organizing finances to opening and closing garage doors – such devices ensure that consumers have more tools at their fingertips (literally) than ever before.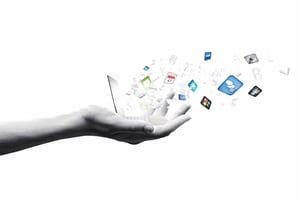 In recent years, a greater number of these apps have targeted the $700 billion North American transportation industry, creating what global research and consulting firm Frost & Sullivan has suggested could grow into a $35.4 billion segment of the market by 2025. The firm said on-demand freight mobility apps alone might ultimately account for $26.4 billion, helping to enhance asset utilization among smaller fleets and reduce logistics costs for shippers.Mobility apps aren't the only type available to fleets looking to add value with mobile technology. Frost & Sullivan noted that apps aimed at freight optimization and driver utility have potential to grow into a $9 billion market over the same time frame, helping to remove cost barriers while providing drivers with faster communication, clearer and more accurate delivery instructions, reporting functions and a variety of other capabilities. Such technologies arm drivers, dispatchers and other fleet personnel with quick access to critical information, leading to improved productivity.
A Changing Approach
With the growth of eCommerce, consumer demands have placed more pressure on companies to adopt tighter delivery windows. While mobile technology has helped offset this challenge in the form of fast and efficient flow of information, transportation and logistics providers continue to seek additional process improvements. To stay competitive, fleets must continuously evaluate the benefits of new mobile capabilities.
Until very recently, the transportation industry's use of mobile technology largely has been limited to track-and-trace functions and circle of service forms, but smartphones have expanded the ability to analyze driver and vehicle performance behaviors that extend beyond delivery times. Gamification has become popular in recent years, as fleets use scorecards and establish point systems to measure and encourage improvements in everything from idle time to hard-braking events.
Recently, there has been a rise in the availability of out-of-the-cabin mobile technologies aimed at driver convenience by allowing them to better navigate data requirements, update shipment status in real time and perform a variety of other functions with greater efficiency. Advanced mobile technologies offer users a range of benefits such as automated service scheduling and the ability to view load assignments, monitor hours of service, send and receive messages with their dispatcher, view current routes and examine pay information.
A Connected Future
Today, dispatchers, drivers, planners and other transportation employees have more tools at their disposal than ever before, but mobile technology hasn't finished evolving. According to Frost & Sullivan, approximately 63.5 million trucks globally will be connected by 2025, making the industry smarter and more efficient. Moving forward, vehicle-to-vehicle communication will work in concert with collision avoidance systems to enable cost-saving measures like platooning. In addition, OEMs are already developing ways to remotely update vehicle software and firmware, and embedded software and sensors will allow for vastly improved predictive maintenance.
Though many transportation businesses have made sizable investments in mobile technology, those investments have yet to translate into greater integration. Already this is changing, as organizations turn away from limited, single-point solutions and seek out advanced mobile apps capable of connecting to TMS and fleet maintenance systems.
Ready to move away from a piecemeal approach and toward integrated platforms that offer a broad range of capabilities to perform business-critical actions? Start here.