For more than a decade, three disparate industries -- banking, nursing, and trucking -- have grappled with labor shortages driven by the challenges of replacing an aging workforce.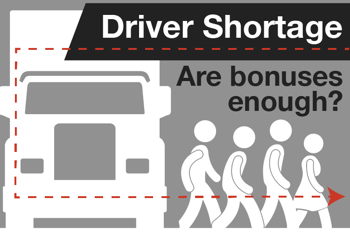 The three have little else in common except for two more things: first, they expect extensive growth in the coming years; second, their old-school reputations repel younger workers from pursuing the stable careers they offer. Each industry faces unique challenges, but with the trucking recently suffering its biggest turnover surge since 2010, now might be a good time to borrow their ideas to improve retention and attract new blood.
Some carriers are now offering sign-on bonuses ranging from $2,000 to $10,000. This can work for the short-term, and it's a tactic some hospitals have also used to attract to nurses. However, there are downsides. The bonus approach:
Attracts people whose primary interest is obtaining that bonus (and once they have it, they're probably looking for the next one--somewhere else)
Paints the company offering it as desperate, which is not an attractive feature to a potential recruit
Fuels a slow burn in existing employees who do the same work but had no opportunity to receive a sign-on bonus.
Instead of hiring bonuses, money may be better spent making wages as consistent and competitive as possible as well as upgrading company benefits and work culture.
Integrating a work/life balance program into a trucking fleet might sound nearly impossible given the nature of the job, but it's a major recruiting tool used by banks and hospitals to lure millennials and retain mature workers. These programs offer flexible shifts, part-time hours and time off for community service. Many hospitals have succeeded in attracting retired or mommy track nurses back to work by offering them part-time shifts.
Trucking HR Canada has been tracking how many members of its Top Fleet Employers Program have adopted work/life balance programs and found 92% of them do so, with positive results in both recruitment and retention. Passenger waivers for family members and spouses (and even pets), truck share arrangements and concerted efforts to reduce long hauls from 10-14 days down to 5-7 also feature prominently in these Canadian programs. If your company offers work/life balance make sure it's listed among your benefits.

Expanded benefit packages--which can add up to nearly a third of compensation--help many banks and hospitals attract new employees by offering health insurance, paid vacation time, childcare support and tuition reimbursement. It's a trend that could be more widely adopted within the trucking industry.

Banking recruits new employees fresh from college by offering them career paths and avoids heavy

investments in training by offering modular training. This method allows

employees entering the field with low skill sets to develop them as required, eventually moving them from teller positions into more interesting and lucrative roles. There is also a serious effort in banking to lure talent to its tech-oriented jobs, emphasizing the growing impact of technology on the sector. There are parallel opportunities in the freight sector.

Both banking and nursing are also acknowledging the specific preferences of millennials, who thrive in an atmosphere of more feedback and interaction with fellow employees and supervisors. This is a departure from how their older co-workers generally tick. One common practice is creating engagement programs to identify what motivates individual employees and what they specifically like and dislike about their jobs. These are especially useful for employers to learn what they can offer employees when salary increases are off the table. Likewise, stay interviews, conducted as frequently as monthly at some companies, let employees know they're valued and always include a variation of the question "What can I do to keep you?"
For more ideas on recruiting and retaining drivers, ask TMW about this integration or read our idea-filled blogs, "3 Driver Retention Strategies That Work," "How to Ward Off a Driver Shortage at Your Company," "Gender Diversity Makes Good Business Sense," with Women In Trucking's Ellen Voie and "Improving the Image of Trucking by Adopting Passion," by Ohio Trucking Association's Thomas Balzer, CAE.