People on the front lines of transportation companies used to be tethered to workstations in the office, truck, dock and maintenance bay.
Fleet managers worked with desktops and drivers with in-cab computers. Meanwhile, dock workers handled paper manifests and clumsy devices to scan and document freight. Diesel technicians crowded around PCs in the shop to enter repair orders.
The mobile revolution that brought Apple® and Android™ platforms to consumers has spread to corporate information systems at every level. A growing number of drivers and blue-collar workers now use smart devices and friendly apps that make their jobs easier and improve the flow of information through the enterprise.
The revolution continues, giving trucking companies new options to make employees more productive and their work more engaging. As you plan your mobile strategy for 2017, here are five trucking apps that should be on everyone's shortlist.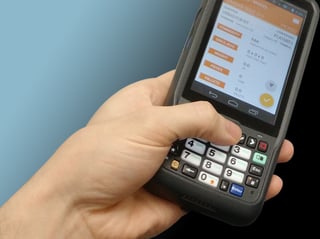 ConnectedDock
Most trucking companies can track freight when it is moving on their equipment, but many lack real-time visibility when it crosses their docks.
ConnectedDock is a new app from TMW Systems that bridges this visibility gap. Dock workers use this simple, intuitive app to streamline key data collection processes when unloading, loading and receiving freight.
The app can prompt workers to more frequently re-weigh and re-dimension shipments, and supply the enterprise TruckMate system with real-time information to make instant billing adjustments. It can also direct workers to the appropriate destination dock as soon as they unload a shipment and give instant error messages if they try to load freight onto the wrong trailer.
My ONE20
The workday of professional truck drivers seldom goes as planned due to traffic, weather, parking availability, hours-of-service and other dynamic conditions. The uncertainty often causes disappointment and frustration.
Drivers and fleets are beating these odds with powerful trip planning apps. A free app, My ONE20, helps drivers stay engaged and plan the road ahead. The app comes with navigation and trucker-friendly points of interest, weigh station status, map layers, search capabilities and ETA calculations that include HOS restriction estimates, travel times, traffic and speed.
Truck stops and other retail locations on drivers' routes can use this cloud-based system to send discounts and coupons to assist drivers with trip planning decisions.
TMT Mobile Mechanic Workstation
Fleets and independent repair centers can use this app to enable technicians to capture repair activities and related information outside the shop.
TMT Mobile Mechanic Workstation helps accelerate the repair process when a technician is working on equipment on the road or in the yard. The trucking app can be used to create new work orders or sections quickly; manage existing work orders; track labor time; locate, price and request parts; capture vehicle mileage and technician notes and more.
ConnectedDriver
Thousands of drivers are now using a suite of companion apps for PeopleNet's in-cab platform to stay connected to dispatch, trip messaging and hours-of-service information while away from their trucks.
The ConnectedDriver Mobility App is integrated with the TMWSuite platform to provide bi-directional messaging, dispatch and stop data, hours of service availability, driver pay, time-off and more information to drivers on their personal devices.
ALK CoPilot
Truck navigation is a popular addition to in-cab fleet management platforms, especially since Android devices have become the go-to option.
One of the most widely used navigation apps, ALK's CoPilot Truck, delivers trusted routes that are safe, accurate and legal for commercial vehicles of all types.
The app integrates with mobile and back-office transportation management systems to optimally route drivers to customers, fuel stops and other planned locations. The trucking app uses industry-standard PC*MILER distances and routes to ensure consistency in mileages for billing and driver pay.
All five of these leading apps are being used by transportation companies to expand worker connectivity and offer a better work experience. The trucking apps can be deployed quickly by running on devices and operating systems already familiar to your workers.
Ready to schedule a demo? To learn about TMW Systems' transportation management software, please visit tmwsystems.com/contact .